The report from the US Energy Information Administration (EIA) shows that total crude oil and petroleum products (ex. SPR) stocks sank -10.39 mmb to 1233.43 mmb in the week ended September 3. Crude oil inventory declined for a 8 consecutive week, down -1.53 mmb (consensus: -4.61 mmb) to 423.87 mmb. Stockpile fell in PADD 3, 4 and 5. PADD 3 (Gulf Coast) alone saw 2.59 mmb decline during the week. Cushing stock gained +1.92 mmb to 36.42 mmb. Utilization rate sank -9.4 percentage points to 81.9% while crude production dipped -1.5 mmb higher to 10M bpd for the week. Crude oil imports decreased -0.53M bpd to 5.81M bpd in the week.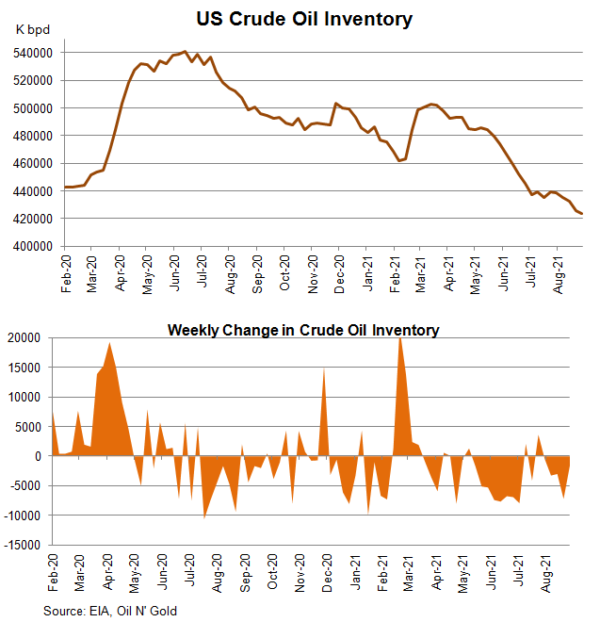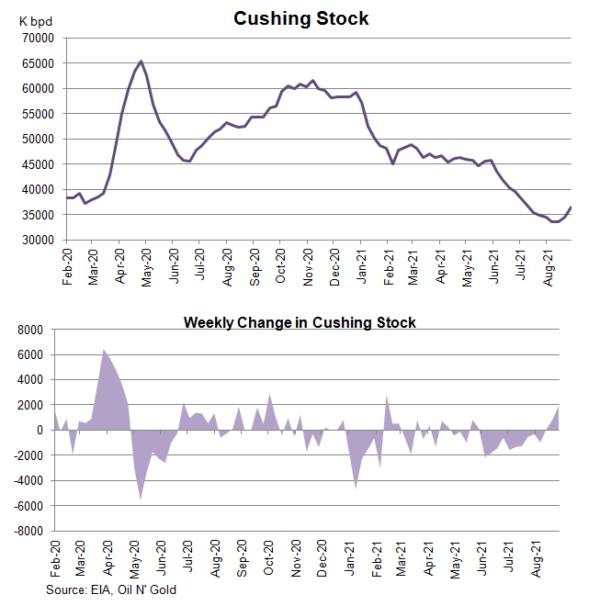 Concerning refined oil product inventories, gasoline inventory added +1.29 mmb to 227.21 mmb although demand also gained +0.31% to 9.62M bpd. The market had anticipated a -3.39 mmb fall in stockpile. Production slipped -3.39% to 9.58M bpd while imports slumped -21% to 0.9M bpd during the week. Distillate stockpile dropped -1.73 mmb to 136.73 mmb. The market had anticipated a -2..62 mmb decrease. Demand plunged -16.06% to 3.69M bpd. Production sank -12.997% to 4.19 mmb while imports slumped -60.99% to 0.14M bpd during the week.
A day earlier, the industry-sponsored API estimated that crude oil inventory was down -2.88 mmb. Gasoline stockpile fell -6.41 mmb, while that for distillate dropped -3.75 mmb.
[td_block_15 category_id="" custom_title="Featured Analysis" block_template_id="td_block_template_8″ border_color="#dd3333″ limit="6″ td_ajax_filter_type="" ajax_pagination="load_more" category_ids="332, -343″ columns="33.33333333%" author_photo="yes" author_photo_radius1="0″ show_excerpt1="none" tdc_css="eyJhbGwiOnsiYm9yZGVyLWNvbG9yIjoiI2RkMzMzMyIsImRpc3BsYXkiOiIifX0="][td_block_7 modules_category="image" modules_on_row="eyJhbGwiOiI1MCUiLCJsYW5kc2NhcGUiOiIxMDAlIn0=" modules_category1="image" show_cat2="none" show_com2="none" show_author2="none" columns="eyJhbGwiOiIzMy4zMzMzMzMzMyUiLCJwaG9uZSI6IjEwMCUifQ==" columns_gap="eyJsYW5kc2NhcGUiOiI0MCIsInBvcnRyYWl0IjoiMjgifQ==" image_width2="eyJwb3J0cmFpdCI6IjM1In0=" modules_space1="eyJhbGwiOiIwIiwicGhvbmUiOiIyMSJ9″ hide_audio="yes" mc1_el="0″ custom_title="Learn Forex Trading" block_template_id="td_block_template_8″ category_id="180″ sort="random_posts" ajax_pagination="" video_popup="" author_photo_radius1="0″ show_date1="none" show_review1="none" show_audio1="none" hide_image2="yes" author_photo_radius2="0″ show_date2="none" mc1_tl="25″ mc5_el="0″ meta_info_align1="" show_excerpt1="none" show_author1="none" modules_divider2="solid" tdc_css="eyJhbGwiOnsiYm9yZGVyLWNvbG9yIjoiI2VhZWFlYSIsImRpc3BsYXkiOiIifSwibGFuZHNjYXBlIjp7ImJvcmRlci1jb2xvciI6IiNlYWVhZWEiLCJkaXNwbGF5IjoiIn0sImxhbmRzY2FwZV9tYXhfd2lkdGgiOjExNDAsImxhbmRzY2FwZV9taW5fd2lkdGgiOjEwMTl9″ modules_border_color1="" modules_divider_color1="" all_underline_color="" title_txt="#000000″ cat_txt="#ffffff" cat_txt_hover="#000000″ all_underline_height1="0″ all_underline_height2="0″ m4_el="0″ limit="6″]